Orlando Bar Mitzvah Venue | Congregation Ohev Shalom | Synagogues In Orlando |
Bar/Bat Mitzvahs at Ohev Shalom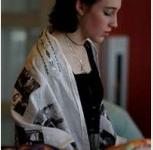 Mazal tov on your upcoming simchah!
B'nei mitzvah at Congregation Ohev Shalom are both the culmination of a course of study and the beginning of a lifetime of commitment as a fully obligated member of the Jewish community. We are honored and delighted to guide our young people through this transition which has been so vital to the continuity of our tradition and our people.
If you are new to the area or to our congregational family and have a child approaching the age of Bar/Bat Mitzvah, please contact our Youth and Education Director, Amy Geboff (Educator@OhevShalom.org) or visit our religious school page on our website.
If your child is already enrolled in our religious school program and you need another copy of the Bar/Bat Mitzvah Date Reservation Form or Bar/Bat Mitzvah Year Training Timeline, you can download them from the links in the box in the upper right corner of this page. Our chazan, Cantor Allan Robuck, handles most of the final instruction in t'filot (prayers), reading Torah, and chanting Haftarah. Our goal is to make the process of becoming Bar/Bat Mitzvah as positive and meaningful as possible for children and their families alike.
If you have additional questions about membership, our programs, our facility, or anything else, don't hesitate to be in touch with our Executive Director, Rachel Rosenberg O'Brien (execdir@ohevshalom).
Once again, mazal tov . . . and we look forward to celebrating with you!
A Beautiful Venue for Your Party
A wonderful and convenient way to continue your celebration is to make use of our beautiful new facility. The Ballrooms at Ohev Shalom and our full-service catering kitchen are available for parties of all types and sizes. Please contact our Executive Director, Rachel Rosenberg O'Brien (execdir@ohevshalom.org), for details.
Mon, December 6 2021
2 Tevet 5782
Upcoming Programs & Events
---
Mon, December 6 2021 2 Tevet 5782